Web directory
This site contains links to collections of web based things I have made over the past few years. Over the past 5 years I have worked on representation of fish in hydrodynamic models with Turnpenny Horsfield Associates (THA). I now work at Oxford University as a research assistant in the Department of Zoology. I'm in the animal behaviour group. I am looking at the adaptations of Hill Stream Loaches to very strong currents.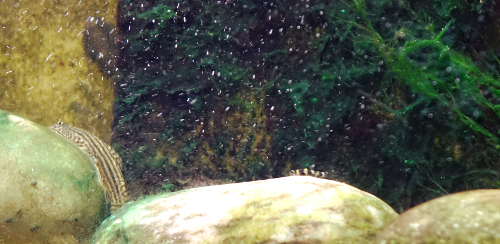 In the above picture the fish on the left is a Sewellia lineolata and there are two juveniles (the one above is a sub-adult about a year old, and the one on the right is a juvenile about a month old).
I've been obsessed with krill and their interaction with whales for about 10 years now, and recently had a paper about krill accepted by Marine Ecology Progress Series.
Anyhow, here below are a couple of dwarf minke whales we saw near the Great Barrier Reef.